July 03, 2018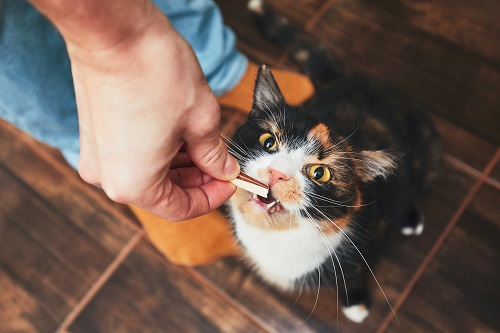 If you own one or more cats, and you're trying to either save money or simply come up with a few homemade treat recipes, then you need to try this honey catnip bite recipe as soon as possible. These bites have a slightly sweet taste to them that your cats won't be able to get enough of, and they're so easy to make you'll be wondering why you didn't look them up sooner!
There are a few quick things to note before you set forth, however—for one, this recipe contains dairy products, which some cats cannot process due to a lack of lactase. This necessary enzyme breaks down the lactose found in dairy products, such as butter, milk, and cheese, and it can be troublesome for cats who lack lactase. These honey catnip bites also contain flour and eggs—both of which cats can eat, but avoid using dough that has yeast in it, as it has byproducts that can lead to bloating and eventually alcohol poisoning in cats.
Before you add anything new into your cat's diet, just be sure you first consult your vet to keep your animals both healthy and safe, which all of us cat owners want first and foremost. Now, if you think this recipe is the one your cat will love, let's get cooking!
Ingredients for Raw Honey Catnip Bites
1 1/2 teaspoons of catnip, organic
1 1/2 cups of flour, whole wheat
1/2 cup of milk
1/3 cup of dry milk
2 tablespoons of butter, melted
1 tablespoon of raw honey
1 egg, large
Directions for Raw Honey Catnip Bites
To begin, preheat your oven to 350 degrees Fahrenheit on the Bake setting, and prepare a baking sheet, preferably one that is rimmed at the edges.
Mix your dry ingredients and wet ingredients in separate mixing bowls, adding the wet mixture to the dry mixture and forming a dough.
Now, roll out the dough and add more of your whole wheat flour if need be. Cut the dough into small shapes or squares, making sure to use all the dough in one batch.
Bake the catnip bites for about 20 minutes or until they develop a light brown color. Allow them to cool completely, and then store them in an airtight container or freeze them and thaw as need be.
Need to order some raw honey to make these treats for your cat? To get your order started, click here. And, remember, we offer FREE shipping on all orders of $150 or more.
Photo By Chalabala
---