July 04, 2018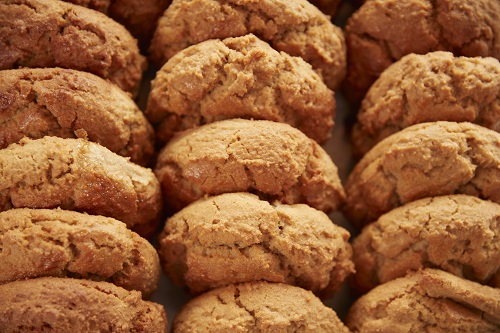 While traditional, homemade chocolate chip cookies are some of the best go-to treats out there, it never hurts to try something new, and you'll definitely want to try these raw honey -lemon thumbprint cookies, especially if you're looking for cookie recipes that use healthier sugar alternatives. These cookies not only bring on the richness found in raw honey, but they blend seamlessly with lemon zest, making for a sweet but not overpowering sensation. If you think these cookies are something worth trying, then let's get started!
Ingredients for Raw Honey & Lemon Thumbprint Cookies
1½ cups of almond flour
Zest from 1 lemon, finely grated
⅛ teaspoon of fine salt
¼ cup of raw honey
¼ cup of tahini
½ teaspoon of vanilla extract
1 teaspoon of olive oil
16 chocolate chips or whole almonds (optional)
Directions for Honey & Lemon Cookies
Total Time: 20 min. Prep Time: 10 min. Cook Time: 10 min. Servings: 16 cookies.
Preheat your oven to 350 degrees Fahrenheit on the Bake setting. Then, line parchment paper on a baking sheet, preferably one that is rimmed.
Using a large bowl, mix together the flour, the salt, and the lemon zest. In another smaller bowl, whisk the tahini, the raw honey, the vanilla, and the olive oil together.
Pour your wet ingredients in with your dry ingredients, stirring well until everything has blended. Using your hands, roll the dough until it is in a large ball.
Start pinching off pieces of dough roughly one tablespoon in size, rolling them into small balls using your palms.
Place the small dough balls on the baking sheet, using up all your dough and putting about one or two inches of space between them. You should have about 16 balls of dough.
Press one of your pinkie fingers gently into the middle every dough ball in order to flatten the cookies slightly until they are each about three quarters of an inch thick. You can press either a chocolate chip or an almond into each cookie's center if you prefer.
Bake the cookies until their edges have developed a slight brown color, which should take between 10 and 12 minutes. Once they've finished baking, move the cookies onto a ready wire rack or a sheet of wax paper to cool.
You can enjoy the cookies now, store them at room temp in an airtight container for a maximum of two weeks, or freeze them for a max of three months.
Need to order some raw honey to make this delicious recipe? Click here to get your order started. And, remember, we offer FREE shipping on all orders of $150 or more.
Photo By monkeybusiness
---