March 11, 2019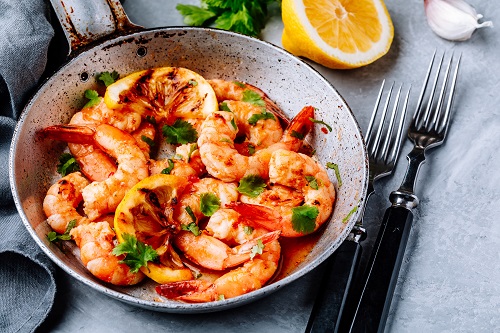 Even if you have never cooked it for yourself, it hardly matters—unless you're allergic to it, it's hard to say no to properly cooked shrimp. That's especially the case if you're among those who like their shrimp hot and spicy. Fortunately, for that specific group of food lovers, we have the perfect recipe for your next adventure — red-hot Manuka honey shrimp! Meals with shrimp as a key ingredient may sound like something for a more experienced chef, but it's actually something so accessible that even a teenager could do it.
While they are more commonly seen in coastal cities and states, shrimp recipes can be very simple, and this one is no exception. All you have to do is acquire a few inexpensive ingredients, peel and devein the shrimp (and clean it, obviously), and fire it all up on your kitchen stove. It doesn't matter if you have eaten seafood all your life or if you just feel like trying something for the first time—this shrimp recipe is worth going out of your way for. So, if you think you, your family, or anybody you're brave enough to cook for would find this to be scrumptious, then let's get started on these red-hot Manuka honey shrimp…
Ingredients for Red-Hot Manuka Honey Shrimp
One pound of peeled, deveined, and clean shrimp
1 lime
4 tablespoons of butter
2 tablespoons of chopped, fresh cilantro
2 tablespoons of Manuka honey
2 cloves of garlic, minced
1 tablespoon of hot sauce
Kosher salt, to taste
Freshly ground black pepper, to taste
Directions for Red-Hot Manuka Honey Shrimp
To begin, rinse the shrimp and pat it dry. Create zest with the lime before cutting it into wedges. Stem and then chop the fresh cilantro as well as mincing two garlic cloves.
Using a large saucepan, melt your butter on medium to high heat before adding the minced garlic, the cilantro, the Manuka honey, and the hot sauce and mixing everything together. Once it starts to bubble, add the shrimp, but avoid crowding the pan.
Allow the shrimp two minutes to cook before turning them over. Give them about one more minute, and then turn the heat off.
From there, you can remove the shrimp and serve at your discretion along with any side of your choosing (genuine Ramen noodles go with this shrimp very well). Place several lime wedges on top to complete the picture.
If you need to order some Manuka honey to make this recipe, click here. And, remember, we offer FREE shipping on all orders of $150 or more.
Photo By nblxer
---