April 22, 2017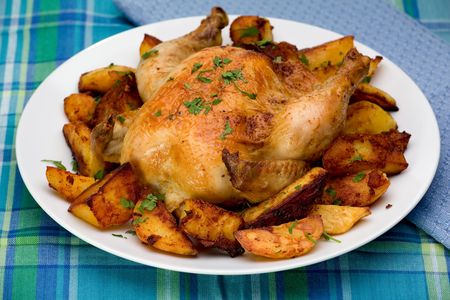 Honey Recipes, Manuka Honey , Honey, Manuka Honey Recipes
Smoky Lemon Garlic Cornish Hens
While enjoying the new spring season, how about celebrating the season further by adding a few Cornish hens to your dinner menu? Nothing welcomes the warm, new season better than spring chickens! Cornish hens, leaner and smaller than your average chicken, are a perfect size for one person to finished on their own -- and delicious as all get out to boot, especially when they are seasoned and cooked just right. The key to these smoky, lemon, and garlic Cornish hens is packing them with spices that do nothing but complement each other and give you the best tasting chicken outside of a high dollar restaurant. So, here's how to make Cornish hens that are both filling and delicious -- as well as a keeper for future meals!
Ingredients
4 fresh Cornish hens
1 lemon, quartered
Juice from 2 large lemons
1 tablespoon each -- basil, thyme, rosemary, and oregano, dried and crushed
4 tablespoons Manuka honey
1 tablespoon coarse black pepper
3 tablespoons butter
1/4 cup soy sauce
1 teaspoon liquid smoke
4 large cloves of garlic
1-1/2 dozen small red potatoes, washed
Directions on How to Make Smoky Lemon Garlic Cornish Hens
Preheat the oven for 350 degrees on the bake setting. Clean and rinse the inside cavity of the four Cornish hens.
Place the hens in a large ovenproof baking dish. Then, tie the legs together and tuck the wings under.
Insert a 1/4 lemon and a large clove of garlic in the cavity of each hen.
Set the potatoes in a bowl, seasoning with 2 tablespoons of olive oil and half of the herbs. Place the seasoned potatoes in the pan around the hens.
Cover the pan with loose aluminum foil and then bake for about 30 minutes. Add the rest of the herbs, the black pepper, lemon juice, butter, Manuka honey, soy sauce, and liquid smoke to a small sauce pan. Simmer the pan over a low flame, stir continuously for 5 minutes, and then remove the pan from the heat.
Remove the hens from the oven and then baste them with the soy sauce mixture. Return the hens to the oven and bake them for an extra 10 minutes.
Remove the hens from the oven, repeating the basting/baking process for another 20 minutes or when the hens are ready.
Test the hens to see if they are done by pushing a fork into the thickest part of each hen, which is between the thigh and the leg. If the liquid looks and runs clear, then your hens are ready.
NOTE: We suggest not adding salt to the hens or baste because soy sauce is already high in sodium. For those on restricted sodium diets, try low-sodium soy sauce. With that, enjoy your smoky, lemon, and garlic Cornish hens!
Copyright: raptorcaptor / 123RF Stock Photo
---