April 22, 2019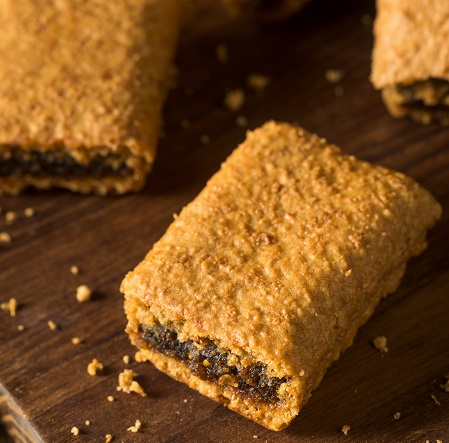 If you're in need of a healthy snack you actually enjoy, then you need to check out this recipe for homemade Manuka honey fig bars! Beyond the simple joy of making your kitchen smell amazing, these revamped fig bars are full of fiber and are without all the preservatives you can expect from store-bought fig treats. So, if you think this recipe is what you're looking for, then let's get started on those Manuka honey fig bars.
Ingredients for Homemade Manuka Honey Fig Bars
Filling: 2 cups of dried figs
1/4 cup of Manuka honey
3/4 cup of cold water
1 tablespoon of orange zest
1/2 teaspoon of salt
Cookie: 1 cup of oats
2 cups of oat flour
1/2 cup of chopped walnuts
1 teaspoon of baking soda
1 tablespoon of grounded chia seeds
2 teaspoons of cinnamon
1/3 cup of Manuka honey
1/2 cup of unsweetened applesauce
2 teaspoons of vanilla extract
1/2 cup of olive oil
Directions for Homemade Manuka Honey Fig Bars
To begin, remove the stems of the dried figs, and then place the figs into a saucepan with your cold water. Let them soak for about 15 minutes.
For the filling, mix in the Manuka honey, the salt, and the orange zest before bringing to boil, reducing to simmer, and then cooking for about 30 minutes. After that, set to the side to cool down for around 15 minutes, and then puree everything to a paste using a blender or food processor.
After lining parchment paper along a 9in by 9in baking dish, preheat your oven to 350 degrees Fahrenheit. Combine the oats, the oat flour, the walnuts, the baking soda, the chia seeds, and the cinnamon in a large bowl before setting aside.
In another large bowl, mix together the Manuka honey, the vanilla extract, the applesauce, and the olive oil, stirring.
Add your dry mixture to your wet mixture, stirring until it's just combined. Put half the dough in the baking dish, pressing firmly for the base layer. Note: The dough is sticky, so using parchment paper to press it down should keep the dough from getting stuck on your hands. Smearing your hands with olive oil should also keep the dough off your hands.
Scoop the fig filling out from your food processor, and then lay it thinly on your base cookie layer and press till a smooth second layer has formed.
Spoon the remaining oat batter onto the fig filling and smooth it down evenly. From there, bake the fig bars for around 30 minutes or until they've developed a golden-brown color.
Remove the fig bars from your oven and let them cool for a couple of hours. Note: This ensures your fig bars will hold together correctly. Store them inside a sealed, airtight container for as much as three days.
Need to order some Manuka honey to make this recipe? Click here. And, remember, we offer FREE shipping on all orders of $150 or more.
Photo By bhofack2
---