December 31, 2018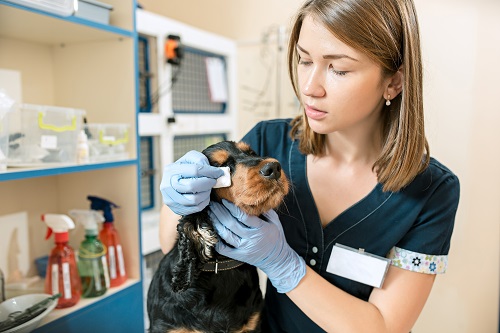 Despite four different final goodbyes by his owners, Adrian and Kyla Harris, a very lucky hound from England has proven everyone wrong and pulled through after he previously scorched himself with hot, burning fat. After the July 4 accident, where the Harris's lemon beagle, Mylo, pulled a deep fryer from their kitchen countertop, the worried couple quickly put the four-year-old pooch in their garden pool to provide him some relief before taking him to the vet. It's taken Mylo months of work to fully recover, but he has been left with scars on his back. "We don't know how it happened, because we weren't in the room," Kyla said. "We just heard an almighty scream."
According to Catherine Tapp, who owns Park Hill Veterinarians, the Harris's quick decision likely saved their dog's life. "Mylo's first visit to us was uneventful," Tapp said. "Burns often get worse with time and the full effect of the damage is often not seen straight away. I got involved when he came back for a check-up and noticed some ooze on his skin. I started looking at it, and his skin started coming off in my hand. It was gruesome." From there, Mylo endured several operations that involved cutting burnt skin away and then closing the tissue. "In the first couple of weeks, staff and the owners seemed to have doubts about whether he was going to survive and if we were doing the right thing for him," Tapp said.
She added, "Mylo is a fighter though. Every time we started to think that, he would fight a bit harder and turn a corner." Because of Mylo's severe injuries, his insurance reached its maximum amount quickly. However, the company that provides Manuka honey dressings to Tapp's practice decided to sponsor Mylo's recovery. At first, Mylo went to the vet every two days for an anesthetic and dressing change. He had a total of 14 anesthetics, and his appointments eventually decreased to just two per week. In October, Mylo finished the Manuka honey dressings and officially signed off.
"He never lost his will to live," Kyla said. "He used to hate coming to the vets, but now when we come back, it's like visiting family." The scarring on Mylo's back will be permanent, and Kyla says seeing him healed doesn't fully give justice to the wounds he suffered. Even so, the Harris's as well as Tapp's team are happy to see that Mylo, who's been dubbed the miracle dog, is back to being his old self again. "Having said goodbye four times, it's going to be marvelous to have him home and well this Christmas," Kyla added.
Photo By master1305
---