January 11, 2019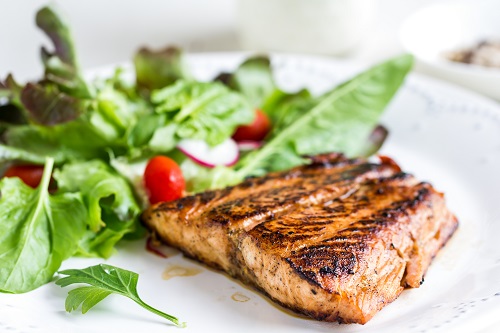 Eating Healthy, Eating Healthy, Manuka Honey Recipes
If you're in need of a new dish to spice up your upcoming dinner plans, then you should check out this recipe for mustard honey glazed salmon with apple-endive salad...
Ingredients for Mustard Honey Glazed Salmon with Apple-Endive Salad
Four 6 oz. salmon fillets, skinless, center cut preferably
2 tablespoons of Manuka honey
3 tablespoons of Dijon mustard
Juice from ½ of a lemon
½ teaspoon of black pepper, freshly ground
¼ teaspoon of salt
1 medium-sized Belgian endive (around 1 pound)
Roughly 20 chives, fresh (or 2 tablespoons of chives, finely chopped)
½ of a Granny Smith apple, large and cored
2 tablespoons of extra-virgin olive oil
Directions for Mustard Honey Glazed Salmon with Apple-Endive Salad
To begin, position one of your oven racks in the top third of your oven (roughly five to six inches below the broiler), and then preheat your oven to 400 degrees Fahrenheit.
Line a rimmed cookie sheet using aluminum foil. In a small bowl, whisk the Manuka honey, the mustard, and ½ teaspoon of lemon juice together.
Arrange your fillets on the prepared cookie sheet, with the skin sides facing down, and then use half of the pepper for seasoning the individual fillets. Drizzle one tablespoon of your Manuka honey sauce on each fillet. Roast the fillets for 10 minutes for every inch of thickness.
Raise the oven temp to broil, and then broil between one and two minutes—just till the salmon has lightly browned. Make sure to watch closely in order to avoid over-cooking.
In the meantime, pour the rest of the lemon juice in a medium-sized bowl. Cut up the endive crossways into half-inch-long pieces before adding it to the lemon juice and disposing of the tough ends of the endive. Toss and coat the endive slices.
Cut up the apple in thin wedges before cutting them in half-inch-long pieces. Add the apple wedges into the bowl, tossing to coat.
Slice the chives in half-inch-long pieces, and then add the chives, the olive oil, the salt, and the rest of the pepper to the lemon-endive-apple bowl. Toss to incorporate.
Distribute the salad on individual plates, and then top every plate with a fillet. Serve your salmon fillets at room temp or warm.
Nutrition: calories: 490; total fat: 30g; saturated fat: 6g; cholesterol: 95mg; sodium: 420mg; carbs: 19g; dietary fiber: 5g; sugars: 13g; and protein: 36g.
Need to order some Manuka honey to make this delicious recipe? To get your order started, click here. And, remember, we offer FREE shipping on all orders of $150 or more!
Photo By vanillaechoes
---