January 07, 2019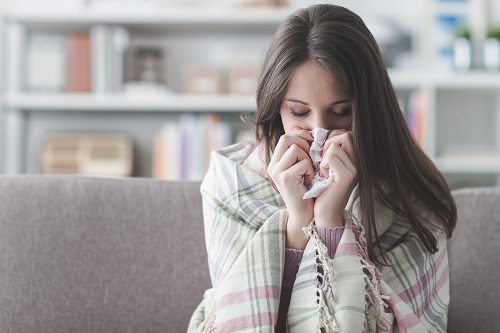 While the easiest plan for tackling colds and the flu is typically OTC or prescription medications, there are natural remedies available that you can use alongside traditional medicine to fight both, reducing symptoms and working well against viral activity. If you're fighting a bad cold or the flu this winter, you should try some of the following natural remedies to get some much-needed relief.
Cinnamon
Though most well known for being sprinkled on lattes and baked into pies, cinnamon is also said to work against various virus strains whenever used in essential oil blends that contain rosemary and eucalyptus. According to a study in Microbiology Open, a team of researchers found cinnamon essential oils to be effective against different flu virus strains, but cinnamon essential oils do need to be used carefully, as they're very potent and should be diluted for any topical applications. You should also avoid internal usage unless a product has been diluted and specifically formulated for it.
Ginger Tea
Teas made via fresh gingerroot are natural favorites against the flu and colds, with some research supporting its use for some flu virus strains. To use, start by coarsely chopping one two-inch slice of gingerroot before adding it to one liter or quart of water. Then, bring everything to boil, lower the heat afterward, cover, and allow it to simmer for an hour. Take the pot off the heat and strain, and you should drink about three cups every day for the best results.
Manuka Honey
According to a study published with Archives of Medical Research, honey, especially Manuka honey, is an allegedly natural remedy that some scientists say contain antiviral properties that could help anyone suffering from the flu.
Green Tea
Green teas, as per research published in Genomics and Informatics, is said to contain compounds called theaflavins, which exhibit a strong inhibitory reaction against various flu virus strains. For the best results, drink around three cups each day.
Vitamin D
Having long been hyped as a strong natural booster for the immune system, vitamin D is also said to reduce incidences of the flu by preventing the condition entirely. As per their research in the American Journal of Clinical Nutrition, a team of scientists determined that supplements containing vitamin D3 led to significantly fewer incidences of the flu.
Vitamin C
Though there are some in the media who bash this necessary vitamin for the immune system, research published by the medical journal Nutrition evaluated the role vitamin C plays in treating the flu and colds, and they determined that it was highly effective. It's even allegedly helped against new flu strains that aren't affected by other treatments.
Need to order some Manuka honey to try some of those homemade cold and flu remedies? To get your order started, click here. And, remember, we offer FREE shipping on all orders of $150 or more.
Photo By stokkete
---