January 04, 2019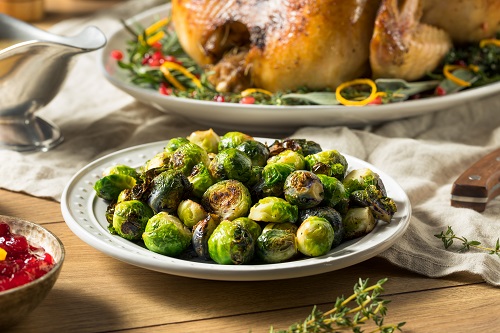 Eating Healthy, Eating Healthy, Honey Recipes, Health
With the holidays largely out of the way for a while, you might be thinking about taking it easy on cooking large meals. Plenty of work went into those meals accommodating large numbers of people, and it's understandable if takeout and pasta will be more your speed for a week or so. However, there are plenty of entrees out there that are not only easy to make but are also delicious and multi-flavored, giving you a holiday-level meal without the holiday-level prep work. For starters, you can always try this recipe for roasted Brussels sprouts with raw honey and paprika.
All you need here is a quick trip to the grocery store and 15 minutes to spare on prep work. From there, you just need to kick your feet up and let the oven do the work. At the end, you'll have a meal that will redefine Brussels sprouts for you and anyone else who might have grown up hating this nutritious veggie. If you think you're up for it so soon after the holidays, then let's get started on those roasted Brussels sprouts with raw honey and paprika.
Ingredients for Roasted Brussels Sprouts with Raw Honey and Paprika
500 grams (1.1 pounds) of Brussels sprouts, trimmed
1 medium-sized lemon, flesh discarded, quartered, and rind sliced in thin strips
2 sprigs of thyme, with leaves stripped
2 sprigs of rosemary
2 cloves of garlic, bashed and with skin still intact
2 teaspoons of paprika, sweet and smoked
2 teaspoons of raw honey
2 tablespoons of olive oil
Black pepper and salt
1 handful of chopped parsley leaves
1 2/3 tablespoons of butter
Directions for Roasted Brussels Sprouts with Raw Honey and Paprika
Prep Time: 15 minutes. Cook Time: 25 minutes. Servings:
To begin, preheat your oven to 400 degrees Fahrenheit.
For the Brussels sprouts, halve the bigger ones and leave any especially small sprouts whole. Place all the sprouts in a large roasting pan, and sprinkle the lemon strips, the thyme, the rosemary, and the garlic cloves over the sprouts.
Sprinkle the paprika over as well as the raw honey and the olive oil. From there, season the contents of the pan generously with black pepper and salt and mix it all together thoroughly.
For roughly 25 minutes, roast the Brussels sprouts, stirring them around one or two times, and then remove them from your oven before stirring in the butter and the parsley. Taste the final product for seasoning, add more black pepper and salt if need be, and then serve at your discretion.
If you need to order some raw honey to make this recipe, click here. And, remember, we offer FREE shipping all orders of $150 or more!
Photo By bhofack2
---