July 14, 2017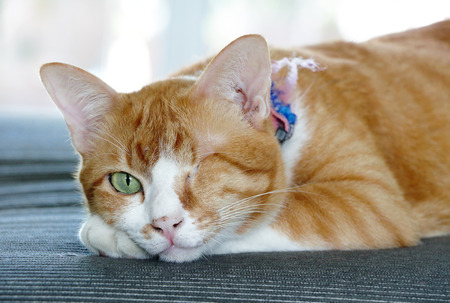 Manuka Honey , Manuka Honey Products For Skin Care, Health
Luckily, even the cutest of animals can have the toughest of resolves—such was the case with Ronney, a white and ginger "moggy" cat from Burslem, Staffordshire in England. As the story goes, Ronney, who already lost an eye last year due to a fairly serious infection, climbed into a vehicle owned by his family's neighbor, Steve Willis, which would travel for about 150 miles—all with the 12-year-old cat on its hot engine. After Willis arrived at his destination in Wiltshire in order to visit family, Ronney emerged from the vehicle with severe first-degree burns on his legs, stomach, tail, and other parts on his body. He had been burned so badly he needed part of the burnt tail amputated.
Lucky Cat
With good fortune and a whole lot of luck, the old cat somehow survived the long trip after veterinarians gave him Manuka honey treatments. Katrina Smart, Ronney's owner, said, "I think Ronney should be renamed Lucky because he has had a terrible few months but has come through it incredibly well." Ronney had been gone for about four days when Willis showed up at the worried Smart's door with the hurt cat.
According to Steve Calveley, the vet who treated Ronney at Newcastle's Charter Veterinary Surgery, "We couldn't believe how he had survived such an incredible experience. He was in intensive care, and, after sorting his tail out, we turned our attention to the extensive burns he had suffered." Calveley also believes part of Ronney's wonderful recovery was due to his being a good natured, even tempered cat. Apparently, due to him being that laid back, Calveley's team did not even have to sedate Ronney during the procedures and treatments. He also praised his team of vet nurses for their part, having been completely dedicated to the old cat's care the entire time.
Recovery Time
According to Smart, who is also a nurse, she and her family have had Ronney since his birth when his mother Sassy had his litter on the floor of Smart's living room. When Ronney went missing, Smart's worry, and that of her 20-year-old son, Gabriel, grew so much that they started knocking on doors and putting up posters. "The furthest he ever goes is along the walls of the houses nearby, so it was unusual when he went missing," she said. Smart also claims she was so happy when her neighbor returned with her cat that she bought him chocolates and wine.
Calveley is hoping Ronney can come home within three or four weeks. "They say cats have nine lives, but I think in Ronney's case it's more like 12," he said. Smart agrees with the sentiment and is excited about having Ronney home permanently.
Copyright: joey333 / 123RF Stock Photo
---