July 15, 2017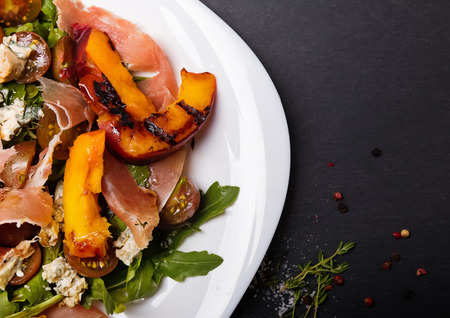 Manuka Honey , Honey, Manuka Honey Recipes
Some people struggle with the concept of eating more salads, especially if it is with the intent of eating healthier. For those who are still on the edge of diving in, here is a recipe that will not only provide some healthy greens into your diet but also some wonderful flavors brought in by ingredients that will more than fill you up—a grilled ham and peach salad, with a splash of Manuka honey. Rather than drown a salad with too much dressing to add some flavor and color, you can get way more than you expected with this strangely perfect mixture!
Whether it's the pepper, the ham, the honey, or the whole concoction, this Kentucky-style salad will surprise you with its adaptability—it can be dinner, lunch, or the first course. Either way, this is definitely a recipe to save for the future. Now, let's get started on that salad!
Ingredients for Grilled Ham and Peach Salad
12 slices of country prosciutto or ham, thin (roughly 12 ounces)
4 firm, ripe, peaches, halved and pitted
1/2 cup of Manuka honey
2 smaller heads of frisée or similar bitter, frilly greens, torn
Black pepper, freshly ground
Olive oil, to brush
Toothpicks
Directions for Grilled Ham and Peach Salad
To begin, start a moderately hot fire within a grill. Note: If you do not have a grill, you can turn your stove on to medium-high heat later.
Cut all the peach halves into thirds, which should give you 24 altogether. After slicing the prosciutto or regular ham and producing 24 total slices, wrap each piece of peach with a ham slice, securing with toothpicks.
Brush the peach/ham slices with the olive oil before seasoning them with the fresh black pepper.
Transfer every peach wedge onto a large-enough baking sheet and then carry them to your grill. If you don't have a grill, turn your stove on to medium-high heat and allow a pan to heat up before grilling.
Grill the peach wedges for about three minutes, while turning them often, until the meat becomes a darker pink and appears to have caramelized.
For serving, line a platter with the frisée or similar greens and top it using your cooked, ham-covered peach wedges. Trickle the salad with Manuka honey and serve—there should be four to six servings. Enjoy your grilled ham and peach salad!
Copyright: vyshniakova / 123RF Stock Photo
---