August 21, 2018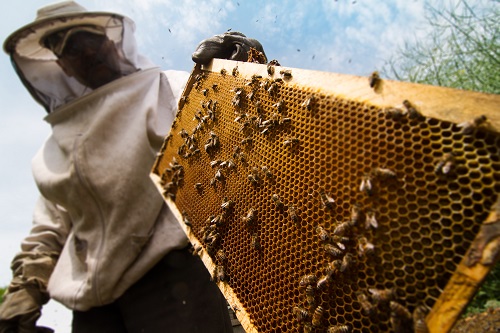 It's not unusual to hear about swarms of honey bees showing up in strange, very public places—one actually planted itself on a museum sign dedicated to the memory of Muhammad Ali last year, a sign ironically adorned with his famous catchphrase: "Float like a butterfly, sting like a bee." In Greenville, South Carolina, its Village area received a similar sight, but this time it was on the rooftop of a restaurant called Golden Brown and Delicious, and it was a bit more planned than a random swarm of bees just showing up. The restaurant owner, Alex George, began working with a local pest company, Gregory Pest Solutions, in order to take part in its new honey bee program.
According to Matthew Tancibok, who is a beekeeper to dozens of colonies and a bee specialist with Gregory Pest Solutions, "It was something I just got into. It was almost kind of accidental, and I nerd out on them big time. I can't help but love everything about [honey bees]—they are amazing insects." Being such a bee enthusiast, Tancibok heads Gregory Pest Solutions' protection program for pollinators, which he came up with back in May of this year to help honey bees they came across.
The bees that Gregory Pest Solutions help, which they remove rather than exterminate, are kept in domesticated hives, and Tancibok sets out to take care of them twice every month while getting the hives established, a process that can take up to one year. Per Tancibok, it's a win-win situation for everyone involved, especially the honey bees, whose populations have been declining for many years now. "With the colony collapse disorder [CCD] that's been going on, you're seeing a drop in honey bees altogether. So, with us doing this, it's just showing there's a smarter way to do pest control than just going out and killing everything."
The program's first customer was Mr. George, who owns Golden Brown and Delicious, which, as stated previously, is where a new hive has been set up. According to George, he has a newfound respect for honey bees, and he cannot wait for his customers to try their honey in his restaurant. "I like honey bees, [and] I really like honey. Honey is probably our most used ingredient in the restaurant. We use local honey right now, but the opportunity to produce our own honey is cool."
Also, by taking part in this program, George is helping his neighborhood by keeping flowers and other plant life healthy and blooming. Without honey bees and other pollinators flying around, Tancibok says that things outside would not look the same. "They pollinate up to a third of everything that we eat, so if you cut out a third of all of our fruits and vegetables, there's not much left."
Ready to try the sweet nectar of honey bees? Our Manuka honey tastes like no honey you have ever had before! To find more about our products or to get an order started, click here.
Photo By macondoso
---