August 20, 2018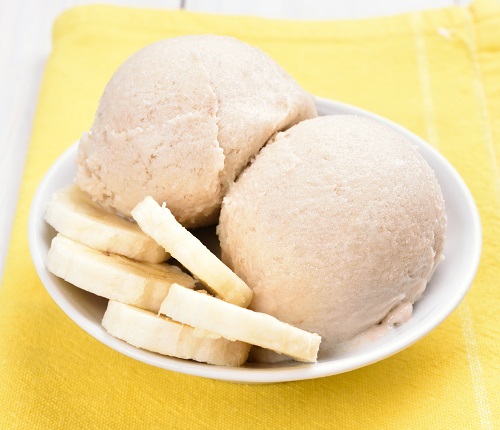 If you've ever tried homemade ice cream, you know there are few things that beat it in the dessert department. However, what needs your attention right now is this recipe for raw honey ice cream—a treat you'll certainly be repeating until the store-brought kind just won't cut it ever again. If you're ready for this, let's get started!
Ingredients for Raw Honey Ice Cream
5 egg yolks, large
1 cup of whole milk
3/4 cup of raw honey, divided
2 cups of heavy cream
1/4 teaspoon of sea salt, fine
1 teaspoon of vanilla extract
1/2 cup of fresh blackberries and/or chopped honey-glazed almonds
Directions for Raw Honey Ice Cream
To begin this recipe, which should be enough for two pints, take a medium-sized metal bowl and whisk you egg yolks, setting them to the side. Place the whole milk in a chilled, separate metal bowl before setting in the fridge.
Combine a ½ cup of the raw honey, the heavy cream, and the sea salt in a medium-sized saucepan and whisk until the honey dissolves. Bring to just a simmer on medium heat, and right when the mixture simmers, whisk half of the hot cream mixture gradually into the egg yolks.
From there, return the egg mixture into the saucepan with the rest of the hot cream, stirring constantly on medium-low heat till the mixture thickens, which should take between two and three minutes. The thickened mixture ought to be able to coat the back of a spoon. Note: Do not let the mixture get to a boil.
Strain the warm custard mix into your chilled milk. Note: The straining part is crucial in case any egg proteins curdled, and the straining can remove them. Whisk the vanilla extract into the cream mixture before covering the bowl and chilling till cold for about two hours, stirring every now and then.
Process the chilled custard mixture in an ice cream maker as per the manufacturer's directions, adding the last 1/4 cup of raw honey once the mixture has a consistency like that of soft-serve ice cream. If soft-serve is what you want, you may serve immediately. If not, you can transfer the ice cream to a freezer-strength container, cover it, and freeze it until firm for roughly four hours. Top the ice cream with fruit, nuts, or both.
Note: Before using your ice cream making unit, you should chill it first, per the manufacturer's instructions, prior to making your raw honey ice cream. Also, don't substitute the whole milk with milk that has a lower fat content—otherwise the ice cream could become too icy.
Need to order some raw honey to make this delicious ice cream? To see all of our honey products or to get an order started, click here.
Photo By voltan1
---