May 05, 2018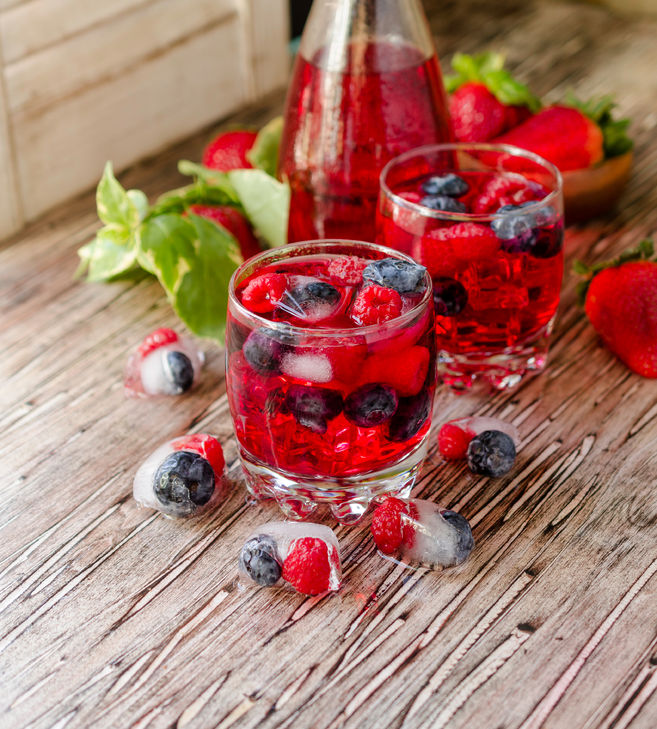 As the weather gets warmer, it is time to start thinking of cocktails that can make use of the great taste of honey as well as providing some refreshment. This recipe makes clever use of fresh, summer ingredients and of course, some raw honey.
Sangria traditionally is made with red wine, lemonade, spices, and fresh fruit. Over the years, recipes have been tweaked to include white wine as well as a combination of both red and white wine. It is all about creating a drink that appeals to you personally, so feel free to substitute for the fruit or wine if you prefer something other than what we are using here.
Ingredients for 'Ice'
12 fresh blueberries
12 fresh raspberries
Ingredients for Berry and Raw Honey Sangria
½ cup raw honey
½ cup water
1 bottle of a dry Pinot Grigio
½ cup white cranberry juice
1 cup fresh mixed berries (we like blueberries, strawberries, and raspberries)
2 limes (cut into wedges or wheels)
To Make Ice
Add one raspberry and one blueberry to each ice slot in a 12-slot tray
Add water to fill tray
Place in freezer at least 24 hours prior to serving Sangria
To Make Berry and Raw Honey Sangria
In large pitcher, muddle blueberries, strawberries, and raspberries
In a large glass or bowl, mix together water and raw honey to create a simple syrup
Add simple syrup, wine, and cranberry juice to muddled fruit already in pitcher
Stir well and refrigerate (should make sangria at least four hours before planned serving
When ready to serve, add mixed berry "ice" to glass, pour out sangria and garnish with lime
Now all you have to is enjoy! We would recommend making up an extra batch for larger groups, because we can guarantee the first pitcher is not going to last very long!
If you need to order raw honey to make this delicious summer beverage, click here. And remember, we offer free shipping on all orders of $150 or more!
Copyright: wilddrago / 123RF Stock Photo
---