January 26, 2020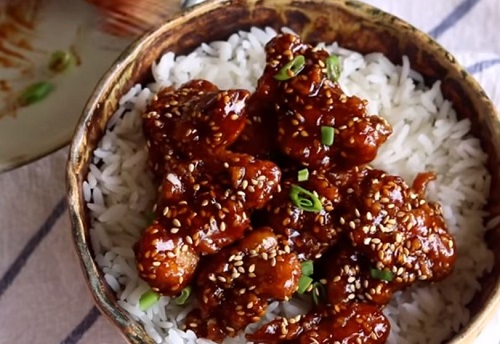 Okay, folks, this is our last installment on Super Bowl party ideas because next week is the big day. We have done appetizers, drinks, snacks, and now we are going for the main entrée. Personally, I love crockpot meals. Sear your meats, grab your ingredients, drop them in the crockpot, and you are pretty much done until it is time to serve the dish.
Now, generally, I like to make soups and stews in my crockpot but since we are making this for a Super Bowl party, I wanted to find a recipe that was still a comfort food, but something we would associate more with party food. What did I come up with? Honey Sesame Chicken! A great takeout dish that will taste even better when you use your slow cooker to whip it up for your guests.
Ingredients for Crockpot (slow cooker) Honey Sesame Chicken:
3medium-large boneless skinless chicken breasts
1/3cup corn starch
2tablespoons oil
1/2cup cold water + 2 tablespoons corn starch
1/4cup + 2 tablespoons low sodium soy sauce
2teaspoons sesame oil
6tablespoons raw honey
2teaspoons minced garlic
2teaspoons ketchup
1tablespoon rice vinegar
sesame seeds, for topping
To Make:
Cut chicken into two-inch pieces
In a large resealable bag, add corn starch and chicken, the close and shake to coat chicken (remember shake 'n bake?)
Using a large skillet, add oil and preheat over medium heat
While your skillet is warming, turn on slow cooker to bring up to temperature (if you have cooking bags, it will make clean up a LOT easier
When oil is heated, add chicken and sauté for one to two minutes (chicken should NOT be cooked all the way through, just seared and browned on outside)
Remove from heat and set seared chicken to the side while you prepare the rest of the ingredients
In a large bowl, add water and cornstarch, then whisk until thoroughly combined
Then add soy sauce, honey, garlic, sesame oil, rice vinegar, and ketchup, whisk again until all ingredients are well combined
Add chicken to slow cooker, then pour sauce over top and cover (allow to cook on low for about three hours)
If you have a rice cooker, prepare rice just before your guests arrive and keep warm
Chicken can be garnished with sesame seeds during service (serve over rice for those guests that prefer the traditional presentation of the dish)
That is all there is to it! Now, if you need to order raw honey to make this dish, click here. And, remember, we offer FREE shipping on all orders of $150 or more.
Recipe via Crème de la Crumb, Photo via Souped Up Recipes YouTube Video Screenshot
---