November 05, 2019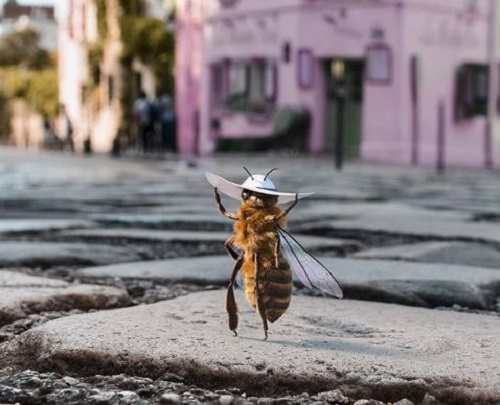 If you a fan of Instagram, I have a new account you absolutely have to follow. Known simply as "B" on Instagram (@bee_nfluencer), this celebrity bee is creating quite the following as well as making its more than 146,000 followers aware of the plight of the honey bee. I have seen accounts like this for pets before, but this account really takes the "selfBEE" to a new level.
The account was created by the French philanthropic network Fondation de France. The account has only been open since April, but more than 100,000 people had followed the account in the bat of an eyelash. Rather than posting the same old picture of bees flying through the air, these pictures are rather cleverly crafted to have the bee doing things people would do, such as sunbathing or posing for a selfie in the middle of a popular walkway.
The "B" is a true influencer as well, as the account has partnered up with different relevant services and products for sponsorships of the account. The money raised through these partnerships is donated, of course, to the Bee Fund. This is a project supporting several pollinator conservation projects throughout France.
One of the more entertaining posts on the account is an activist post, with the bee holding up a sign at a local protest saying "Save Me" with arrows pointing down to the bee. This post was made in September during the Global Climate Strikes. The post had a caption that read, "It is essential to save the planet... And the bees too! Both are threatened and trust me, it would be terrible to live without bees."
The account is also filled with more than its fair share of humor. In another post, the bee flaunts a shot of its unshaven legs, stating, "Some say hairy, I say fluffy." It is cute on steroids.
France, like the rest of the world, has lost enormous amounts of honey bees in recent years. The country regularly experiences a 30 percent loss over the winters, but those numbers have surely gone up in recent years. Social media accounts like this are not only entertaining, but they help spread the information that we need to get out to people and this account is surely reaching an audience that will not likely be interested in this cause on their own.
So, let's take this account viral and make "B" a social media Rockstar!
Source: Channel 3000, Photo via @Bee_Influencer Instagram
---