October 02, 2018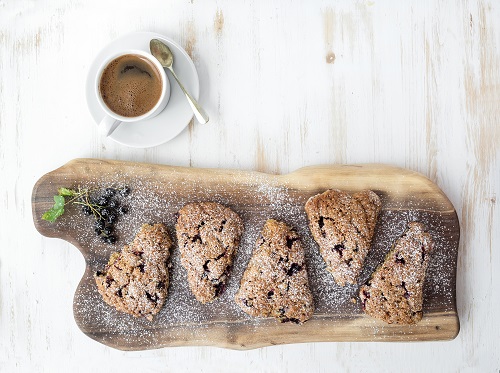 Rather than save your scone fix for your local coffee shop, you should try making your own, stating with these raw honey goat cheese scones.
Ingredients for Raw Honey Goat Cheese Scones
5½ cups of all-purpose flour
½ cup and 1 tablespoon of granulated sugar
¾ cup of cornmeal
2 tablespoons and 2 teaspoons of baking powder
1½ teaspoons of kosher salt
½ teaspoon of baking soda
1½ cups of unsalted butter, cold and cut in ½-inch slices
2½ cups of cold cream
12 black mission figs, ripe, sliced, and stems removed
1 pound of crumbled goat cheese
½ cup of raw honey (consider Pohutukawa honey for a slight hint of salt to balance out the creaminess of the cheese or Manuka honey to add a rich, caramel-like flavor to the overall taste of the scone).
Directions for Raw Honey Goat Cheese Scones
Combine your flour, sugar, cornmeal, baking powder, salt, and baking soda in a bowl for a standing mixer that's been fitted with the paddle attachment. Mix briefly at a low speed to distribute your ingredients evenly.
Add your butter and mix everything on a low speed till the butter slices are no bigger than peas, which should take about four minutes.
While the mixer is still on a low speed, stream your cold cream into the bowl till the dough starts pulling together. Note: Be careful to avoid over-mixing. Any dry ingredients that are left can be hand-incorporated to keep from overworking your dough.
With the dough gathered in one mass, turn it out on a work surface lined with parchment, and then divide it into three parts. Pat the dough sections gently into rectangles that are roughly 6 inches x 23 inches x ½ an inch thick. Add more texture to the doughs with your fingers, making small dents for the fruits.
When assembly is ready to begin, distribute half your goat cheese evenly across the dough's bottom layer. Arrange half the figs on top of your goat cheese before drizzling with half the raw honey. Gently set the second dough layer on top.
Now, distribute the rest of the goat cheese across the second layer and then do the same with the rest of the figs and raw honey. Top everything with the third dough layer, tucking in loose edges and creating a clean, even rectangle. Refrigerate your dough between 15 minutes to an hour.
With a knife or bench scraper, portion the dough into a dozen, fairly even scones approximately two by three inches each. Set the scones onto a baking sheet lined with parchment, wrap it tightly, and then freeze the scones for an hour or even overnight.
When you're ready to start baking, preheat your oven to 375 degrees Fahrenheit and remove the scones from your freezer. After lining parchment on another baking sheet, divide your scones between both baking sheets and space them roughly two or three inches apart.
From there, bake the scones until they're a golden-brown color and the center isn't doughy any longer, which should take between 45 and 50 minutes. Note: Since the scones' fillings are fairly gooey, it's wise to have an internal thermometer handy. Remove the scones when their internal temperature has reached 210 degrees.
Need to order some raw honey to make this delicious recipe? To get your order started, click here.
Photo By sonyakamoz
---