May 13, 2019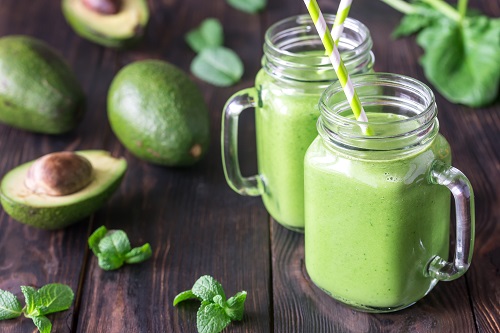 The oldest of the Kardashian-Jenner siblings and a mother of three, Kourtney Kardashian just launched a new website called Poosh, which will provide her followers and fans with a variety of lifestyle ideas and tips, including a few favorite recipes any of us would likely gobble right up. Admittedly, not everything posted on Poosh has been a grand slam — especially a confusing, even controversial recipe for Kourtney's "Signature Salad" — but there are plenty of recipes from this site that are so simple to make that it would take the unluckiest miracle ever to stir up any controversy about them.
One such simple, controversy-free recipe is one for the most important meal of the day—breakfast—and it's certain to become a favorite go-to meal for you! That would be this Manuka honey avocado smoothie, which is both nutritious and simple while also requiring exactly no time at all to make—always a plus during a busy morning!
How to Make a Manuka Honey Avocado Smoothie
According to Poosh, the most filling of this smoothie's three ingredients, avocado, has about 20 minerals and vitamins. "Since avocados are high in fat, it's best to eat the fruit in the morning, so your body can burn the calories throughout the day. Kourt recently updated her recipe by swapping honey for dates. This tweak still adds a bit of sweetness and provides an additional source of fiber." As previously stated, you only need three ingredients to make this delicious smoothie, specifically one organic, soft avocado that's been peeled and pitted; two teaspoons of Manuka honey, dates, or even both; and one cup of coconut milk.
You place all of these ingredients into a blender and blend until the contents inside are smooth. While the website does suggest that this recipe — described as "one of Kourt's favorite breakfast options" — takes around five minutes in total to prep, we seriously doubt tossing a few ingredients in a blender and then hitting a button would really call for more than one or two minutes of your time. This may vary, especially if your avocado hasn't had much time to soften, but it's certainly not going to take long either way.
Just remember that, although this recipe claims to be for just one serving, you may have a little left over, and if you do, remember to cover the smoothie and stick it in your fridge for later. With that, we hope you enjoy your Manuka honey avocado smoothie. If you need to order Manuka honey to make this smoothie, please click here. And, remember we offer FREE shipping on all orders of $150 or more.
Photo By Alex9500
---