October 18, 2018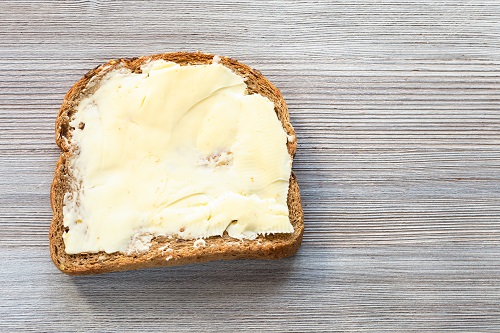 Even if you don't have Scottish heritage, this recipe is one you'll want to take home and try for yourself. This simple whole-wheat bread recipe has the added bonus of including homemade butter, made all the better thanks to the inclusion of Manuka honey and Scotch whiskey. Whether your ancestors once called Scotland home—or you just really love the show Outlander—let's get started on this delicious recipe for whole-wheat bread with Manuka honey Scotch whiskey butter.
Ingredients for Whole-Wheat Bread with Manuka Honey Scotch Whiskey Butter
Whole-Wheat Bread: 1 1/2 cups of whole-wheat flour
½ cup of Scottish oats
2 teaspoons of pure cane sugar
½ teaspoon of sea salt, fine-grain
1 teaspoon of baking soda
1 egg, large
2 tablespoons of melted unsalted butter
1 cup of buttermilk
Honey Whiskey Butter: 1 teaspoon of Manuka honey
6 tablespoons of softened unsalted butter
2 teaspoons of orange marmalade
2 teaspoons of Scotch whiskey
1/8 teaspoon of sea salt
Directions for Whole-Wheat Bread with Manuka Honey Scotch Whiskey Butter
First off, you need to make the Manuka honey Scotch whiskey butter roughly two hours prior to the bread. To begin, stir or mash the butter until it's smooth and a bit fluffy. Add the marmalade, mixing until smooth and then setting to the side.
Mix the scotch whiskey and the Manuka honey together until they've blended well. Mix the honey-scotch paste into the butter, mashing with a fork in order to ensure the ingredients have all incorporated. Add the salt in and mix it well, tasting for seasoning. This butter should last in your refrigerator for about a week if it's completely covered.
Once the butter is ready, get your oven prepped by preheating it to 350 degrees Fahrenheit. Butter a one-pound standard loaf pan lightly before dusting it with one tablespoon of flour. Set the pan to the side.
Add the flour, oats, sugar, salt, and baking soda to a large bowl and whisk them together. In a different bowl, beat your egg before adding in the butter, mixing well. Mix the buttermilk in until it's creamy and well combined.
From there, mix together the dry and wet ingredients until everything has combined. The batter's texture should be very thick.
With your prepared loaf pan, spoon in your mixture and start leveling it, which you can do by carefully and gently dropping the loaf pan onto the counter. Score a straight line with an un-serrated knife down the batter's middle to ensure the bread bakes evenly.
Set your loaf pan onto a baking sheet before placing it on the center rack of your oven. Bake the loaf between 50 and 55 minutes or until a fork or toothpick comes up clean. The loaf should pull from the pan's sides and sound somewhat hollow when tapped. Let the bread cool for about 10 minutes in the pan before turning it out on a wire rack.
From there, eat the bread immediately with the Manuka honey Scotch whiskey butter. It's best eaten when it's fresh in the first couple of days and after it's been toasted.
Need to order some Manuka honey to make this delicious recipe? To get your order started, click here, and remember, we offer FREE shipping on all orders of $150 or more.
Photo By vvoennyy
---