September 04, 2020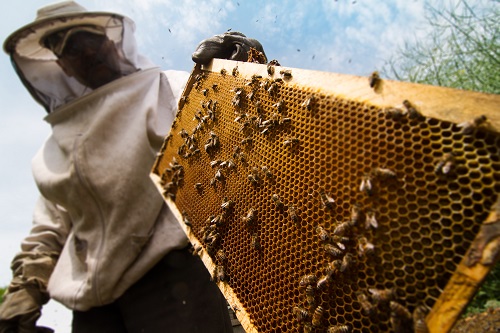 We can't lose our honey bees!
We don't hide the fact that we are honey bee advocates, but that takes nothing away from the reality of how important honey bees are to our society. An overwhelming amount of our crops rely on honey bees and other pollinators to varying degrees to improve crop yields. Even though we are and have relied on honey bees for this reason, far too many people are still completely unaware of the role honey bees play in our agricultural world.
Let the Beekeeper Tell You
Aaron Brink is a local beekeeper in Washington state who loves his job and loves what his bees do for the agricultural communities where he works. Like most commercial beekeepers, Brink travels around renting his hives out to farmers to help pollinate their crops.
Brink generally starts his season in California when the almond crops are ready to go as well as avocados, citrus fruits, apples, and cherries. Once those crops are taken care of, Brink packs up his hives and heads to Oregon, where they will pollinate alfalfa and clover. Finally, after all that is done, Brink will head back to Washington to help local farmers pollinate apricots, cherries, nectarines, sunflowers, and pumpkins.
Some of these crops would obviously still grow without honey bees but without the bees, their yields could be decreased by as much as 40 percent. Let me ask you this… have you ever seen a blueberry that looked like it would explode if you touched it? Have you also seen a container of blueberries that were also the size of a pea? You can thank the local honey bees for those big fat blueberries, and that is exactly why they are so important to our agricultural world.
Brink stated, "Everything that we all love and has wonderful color and flavor at the store, whether it be bell peppers to your raspberries and strawberries or your avocados or tomatoes. All of those are pollinated by your honey bees."
Brink also commented on some of the problems honey bees are having and why we are all so worried about honey bees becoming extinct. He stated, "We have a pesticide issues, we have actual viruses and diseases the honey bees can get, and then we have habitat loss, and all of those three really form this perfect storm that's very detrimental to our honey bees and very detrimental to our native pollinators because it affects all of them."
You can read the full report on NBC Right Now.
---